The 2023 Wagoneer in Selma CA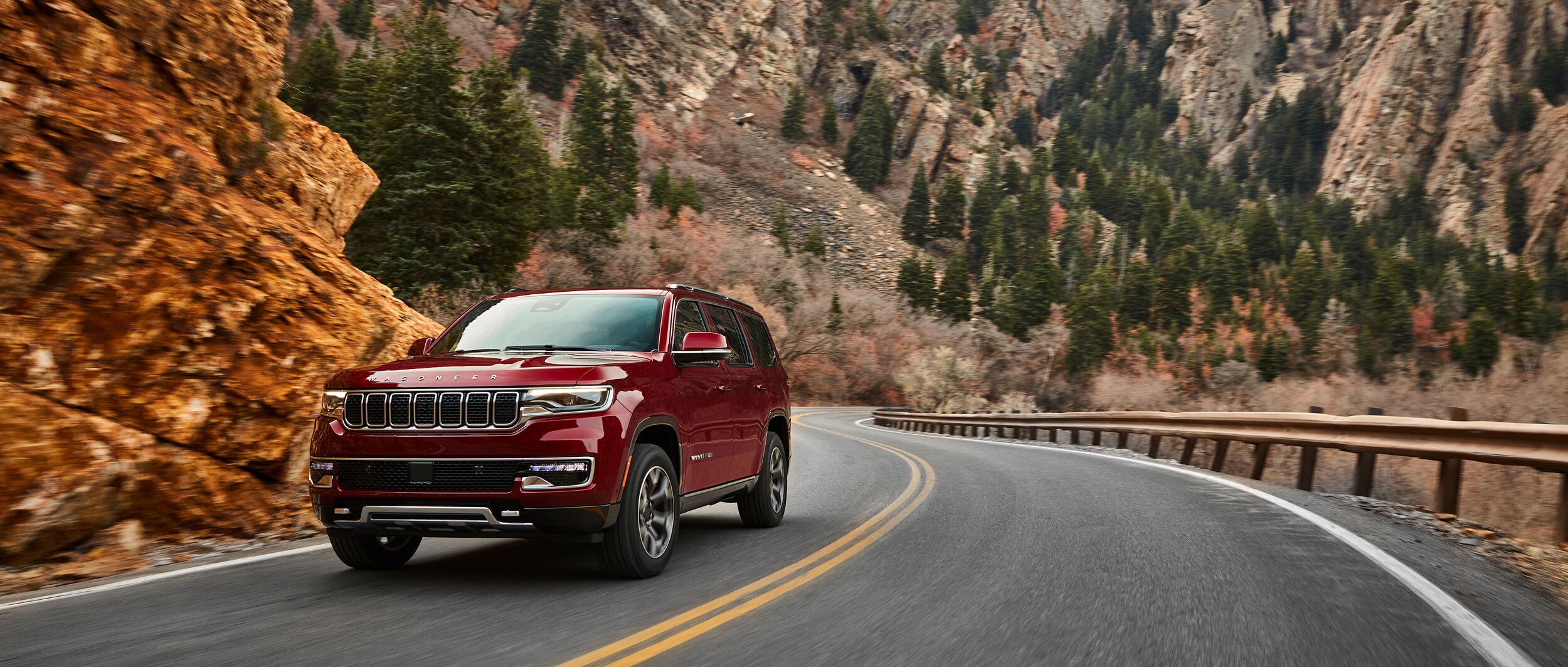 A Strikingly Luxurious SUV: The 2023 Jeep Wagoneer
The 2023 Jeep Wagoneer makes a significant comeback after resurfacing in 2022. Its remarkable features include a spacious, luxurious interior, exceptional towing capability, and powerful engine options. Our objective at our dealership is to let every Visalia driver come to our view and learn more about the Wagoneer. To that end, we've compiled extensive research on everything you need to know about the Wagoneer below.
Performance
The Wagoneer is ready to take you into new territory because it's fueled by a desire to make a difference and a current capacity. As the 420 horsepower twin-turbocharged 3.0L inline-six engine is available on most Wagoneer variants, the 5.7L V8 is still the entry-level option, coming standard on the basic model. An eight-speed automatic transmission is standard. However, Hanford purchasers who wish to use the Wagoneer's off-road abilities should choose four-wheel drive; otherwise, rear-wheel drive is standard. Regarding four-wheel drive, there are three alternatives, each with different degrees of capacity. Other optional off-road features include a drive-mode selection system and an adjustable air suspension that may lift the Wagoneer to offer an extra 3.6 inches of ground clearance through Clovis.
Exterior and Interior
Wagoneer developers merged traditional and modern styles for a realistic and stylish aesthetic inspired by the lines and arches of its predecessor. The outside of the Wagoneer was built and designed with intent, reflecting the self-assurance that comes with a simple design. Wagoneer has grown. Here everyone has a profound connection to the environment. The optional sunroof retracts with the push of a button, allowing warm sun, fresh air, or dazzling stars into the interior. Wagoneer comes to life in Selma with wonderfully done LED lighting when the sun sets. The front headlights provide sharp, constant lighting that illuminates the road ahead in low-light circumstances, while the taillamps give sight to oncoming traffic.
The Wagoneer has dynamic seating arrangements, unique storage alternatives, and plenty of luggage and legroom. The Wagoneer has a wide three-row cabin that can accommodate up to eight people; however, second-row captain's seats decrease capacity to seven. The interior design is luxurious, with 12-way power-adjustable front seats, leather upholstery, three-zone automatic temperature control, and ambient interior lighting.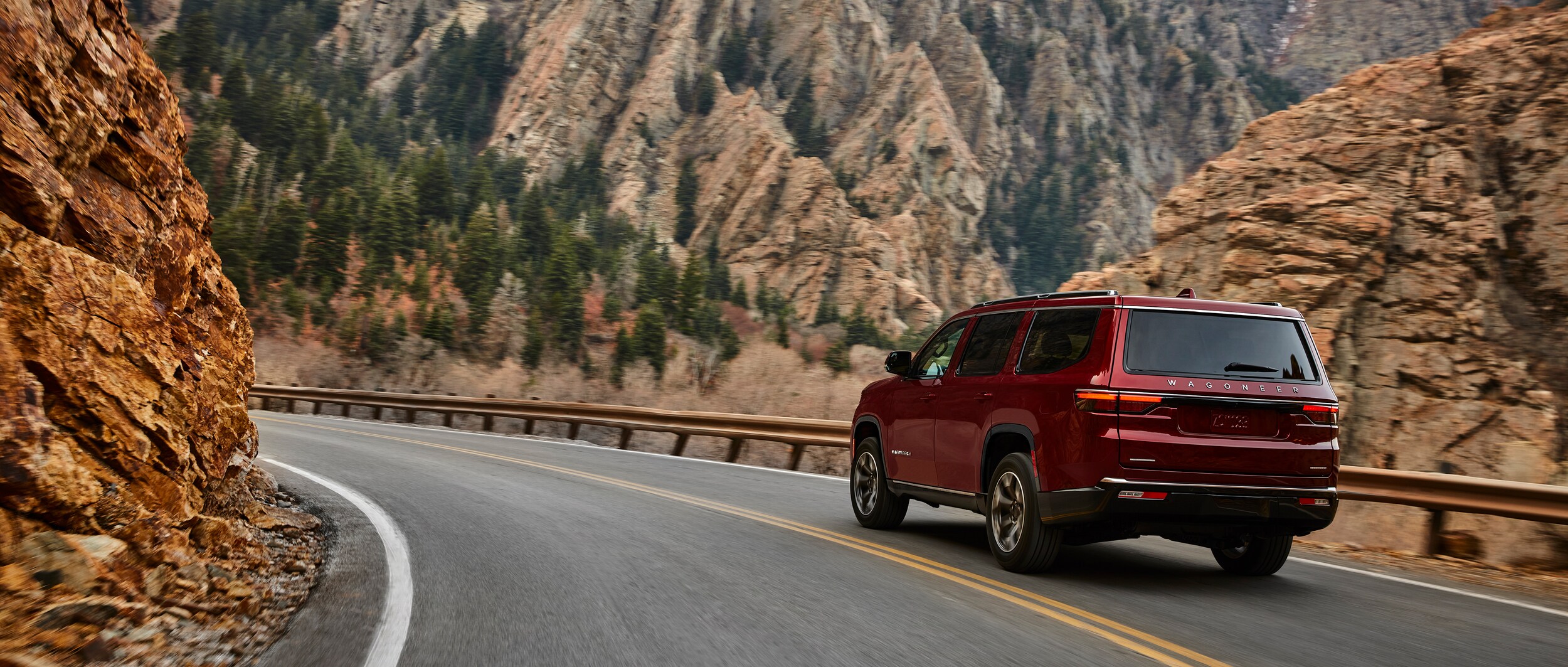 Safety
Given the available advanced standard safety and security measures, the Wagoneer allows you to move with assurance. Enjoy a total sense of security throughout your driving experience. Wagoneer Safety and Security Services, compatible with Wagoneer Connect, include Wagoneer Customer Care and Roadside Assistance and GPS-based safety and security services such as Vehicle Theft Alert and Automatic SOS Call. Full-Speed Forward Collision Warning with Active Braking is now available. Radar sensors embedded into the front bumper detect when you go too near to other vehicles, giving an audible signal and, if required, activating the brakes. A blind spot monitoring system monitors your rear, notifying you when cars enter your blind area and alerting you of invisible vehicles when driving in reverse. By monitoring approaching traffic signs, available advanced vehicle-mounted cameras and real-time image processing assist in anticipating the road ahead.
Technology Features
Every technological decision was meant to enhance how you interact with your SUV, from a range of carefully positioned accessible screens to enhanced wireless connectivity. Wagoneer Connect enables you to operate your car from practically anywhere at home or on the road. You can access navigation, safety, security, and entertainment via the Uconnect infotainment system and the Wagoneer app. Access Wagoneer Connect to learn about the unique perks you expect in your connected environment. Wagoneer includes a collection of exquisitely constructed screens strategically positioned across the interior. Each provides a special means of interacting with your car, from entertainment to information.
Schedule a Test Drive
The Jeep Wagoneer possesses many attractive features, making it a popular choice for devotees near Madera. If you're interested in owning one, you are welcome to explore the range of models at our car dealership. Don't hesitate to ask us for a test drive.
How can we help?
* Indicates a required field